HEAR DIRECTLY FROM THE CANDIDATES!
Town of Huntersville Mayoral and Commissioner Forum
Meet Amanda
Amanda lives in Huntersville with her husband Josh and their two children. They love exploring local lakes, hiking trails, breweries, and restaurants but overall really value their family time. Weekends are often filled with board/yard games and cooking complicated homemade meals. The meals don't always work out but it's always a good time.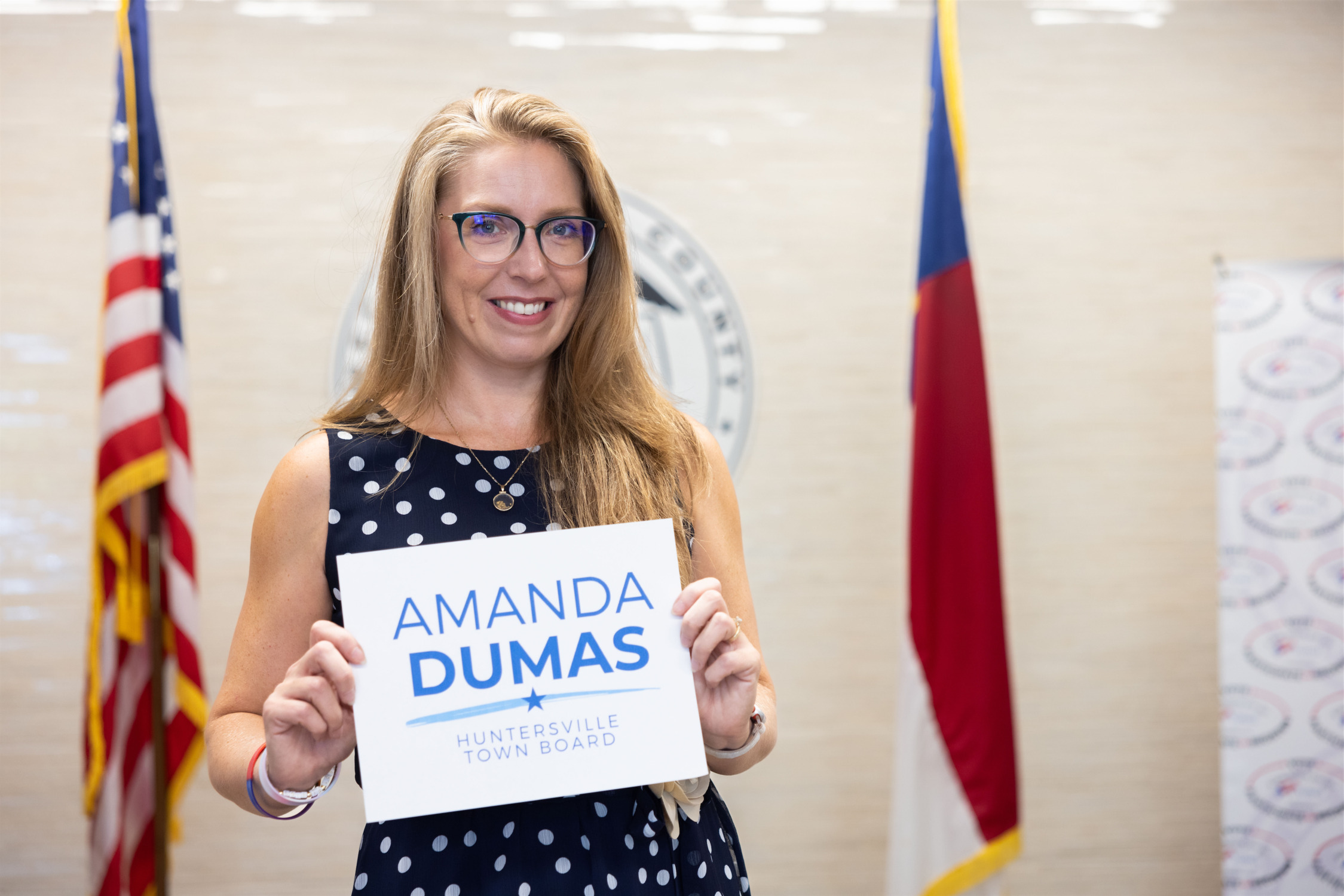 Throughout Amanda's career in the financial services industry, Amanda has led progressive change. She's been quoted in books regarding her extensive knowledge in the Disability Insurance world, presented at several major industry conferences, and earned many honored industry designations. In 2020, she championed the launch of her company's first two Employee Resource Groups; Social Justice Collective (focused on challenges impacting people of color in the industry), and LLGProud (focused on creating a welcoming and affirming workplace). Through this work on diversity and inclusion, several long time employees have felt safe being their authentic selves in the office for the first time in their career.
Beyond her professional life, Amanda has spent the last several years as a servant leader and advocate for the LGBTQ Community. Through this work she's had the opportunity to serve on numerous panels, news interviews, and as Presenter with PFLAG's Allyship in the Workplace workshop in organizations around the country. She's also served on the team for PFLAG's Healthcare Outreach Campaign with the objective to promote greater awareness and understanding of Transgender health within the Health Care community.
It's through her advocacy that Amanda found her way to town politics. First through volunteer efforts, then to Precinct leadership. While currently serving as Chair for Precinct 134, she leads a wonderful team to organize the precinct, hosting events through the year and recruiting volunteers to get out the vote. Its in these efforts that she's been able to meet more and more Huntersvillians and hear about what makes this town home to them. These same friends and neighbors share concerns regarding traffic issues and business friendly development projects that benefit all Huntersville residents. Amanda plans to be a voice for these residents as she has for so many others throughout the years.
____________________________________________________________________________________________________
Amanda vive en Huntersville con su esposo Josh y sus dos hijos. Les encanta explorar lagos locales, rutas de senderismo, cervecerías y restaurantes, pero en general valoran mucho el tiempo que pasan en familia. Los fines de semana suelen estar llenos de juegos de mesa o de jardín y de cocinar complicadas comidas caseras. No siempre funcionan pero se divierten intentándolo.

A lo largo de su carrera en la industria de servicios financieros, Amanda ha liderado cambios progresivos. Ha sido citada en libros sobre su amplio conocimiento en el mundo de los seguros de invalidez, ha sido presentada en varias conferencias importantes de la industria y ha obtenido muchas designaciones honoríficas de la industria. En 2020, impulsó el lanzamiento de los dos primeros grupos de recursos para empleados de su empresa; Social Justice Collective (centrado en los desafíos que afectan a las personas de color en la industria) y LLGProud (centrado en crear un lugar de trabajo acogedor y afirmativo para todos). A través de este trabajo, varios empleados con mucho tiempo se han sentido seguros siendo ellos mismos en la oficina por primera vez en su carrera.

Más allá de su vida profesional, Amanda ha pasado los últimos años como líder de servicio y defensora de la comunidad LGBTQ. A través de este trabajo, ha tenido la oportunidad de participar en numerosos paneles, entrevistas de noticias y como presentadora del taller Allyship in the Workplace de PFLAG en organizaciones de todo el país. También formó parte del equipo de la Campaña de extensión de atención médica de PFLAG con el objetivo de promover una mayor conciencia y comprensión de la salud transgénero dentro de la comunidad de atención médica.

Fue a través de su defensa que Amanda encontró su camino hacia la política local. Primero a través de esfuerzos voluntarios, luego al liderazgo del distrito electoral. Mientras actualmente se desempeña como presidenta del distrito electoral 134, dirige un maravilloso equipo para organizar el distrito electoral, organizando eventos durante todo el año y reclutando voluntarios para lograr el voto. Gracias a estos esfuerzos, ha podido conocer a más y más habitantes de Huntersvillian y escuchar qué hace que esta ciudad sea su hogar. Estos mismos amigos y vecinos comparten preocupaciones acerca de que la infraestructura no sigue el ritmo del crecimiento. Amanda planea ser la voz de estos residentes como lo ha hecho para muchos otros a lo largo de los años.